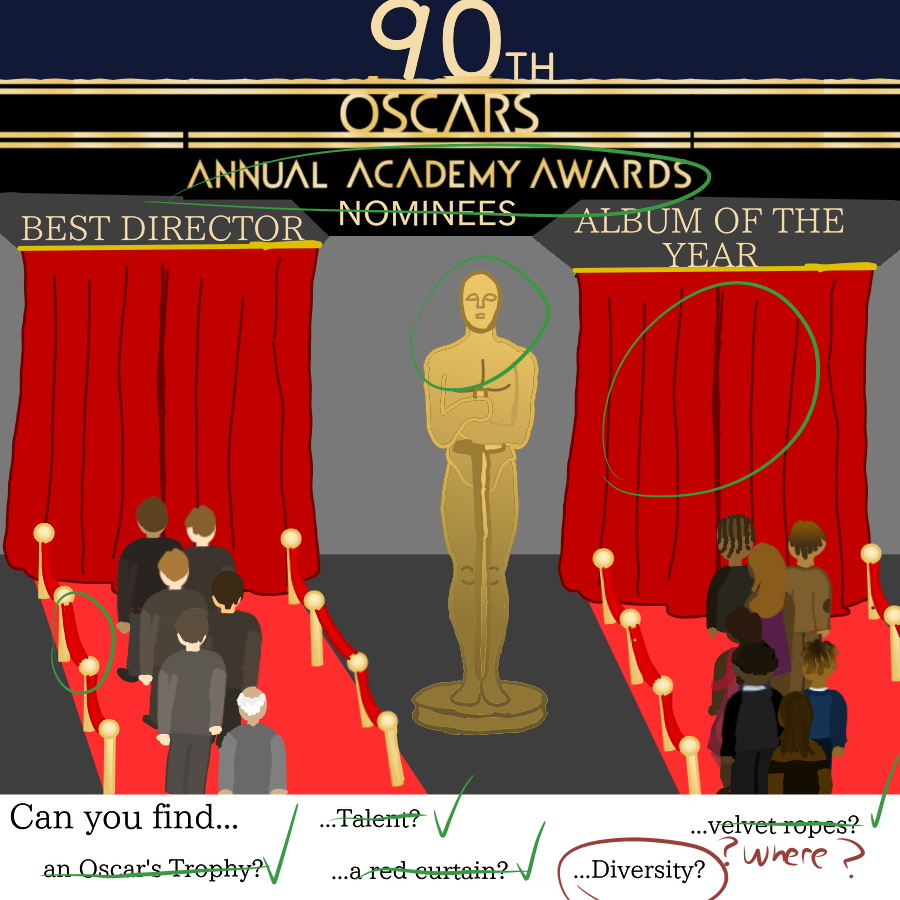 Sara Bridges
We are a few months into 2018, which means it is time we look back at the past year and recognize the artists and creators that endlessly entertained us. It is a time of red carpets, fancy dresses and extravagant award ceremonies in the form of the Oscars and Grammys, but with those awards comes controversy. A debate of which is more important, having diverse nominations from every background and walk of life, or talented individuals that happen to be another white male.
Grammys voters were under fire in the days following the ceremony specifically for their decision for Best Pop Solo Performance, which featured songs by four women—Kesha, Kelly Clarkson, Lady Gaga and Pink—and one man, Ed Sheeran; Sheeran's "Shape of You" took the award. Many criticized this decision, citing that representation should have been considered in its making and that certain artists deserved it more; for example, Kesha's allegations of sexual assault and harassment against record producer Dr. Luke served as the foundation for her album "Rainbow", a fact that critics were quick to point out.
While this is certainly significant information, it has very little to do with the quality of the music; the story behind the art need not directly contribute to its inherent value. Kesha's alleged struggle with Dr. Luke does not instantly make it the best song in the category, even if it does hold value to her and many of her listeners who did like it better in the first place.
Another example in recent memory is the #OscarsSoWhite controversy surrounding the 88th Academy Awards, in which the Academy of Motion Picture Arts and Sciences was criticized for its nomination of only white actors and all but one white director. Even culturally significant movies were seemingly cherry-picked; certain white writers of "Straight Outta Compton" received nominations, while black actors did not.
However, memory and correlation are two different things, and the Oscars and the Grammys is not always so easy to compare. The Grammys are different in this instance because, though they arguably failed to deliver in terms of awards, they were much more representative in their nominations, which is a major improvement from the Oscars.
Ultimately, art is subjective. The way we go about recognizing our art is nowhere close to perfect. What happened during the 88th Academy Awards is unacceptable and we should give a variety of people some time in the spotlight if they deserve it, but if another white male produces a piece of art that is objectively better than other works in its category, then they deserve the award they earned.