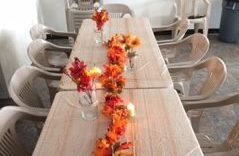 Jo Joseph
As students are counting down the days until Thanksgiving break, most of us are thankful for the fact that there is a week-long break from school. Until break begins, students are envisioning a temporary break from homework, tests and stress. While the thought of the break sounds relaxing and well deserved at first, have you even thought about what you are going to do during the break? Don't worry, I have some simple and enjoyable activities that you can plan on doing with your friends and family during Thanksgiving break.
Watch some football on Thanksgiving weekend.
When asked about what they do on Thanksgiving weekend, most people say they enjoy the food. But some of us sports fans instantly think about watching football games while sitting around with our family and friends. This year, there are three NFL games occurring on Thanksgiving. These games typically happen earlier in the day. So as dinner is cooking for what seems like hours, turn on the TV and watch some exciting football games.
Go see a movie.
Holidays for most families are made for spending time together. What better way than going to a theatre, watching a new movie and then bonding over your feelings about the movie? Many movies are released during the holidays, and Thanksgiving is no exception.
Go Black Friday Shopping.
Black Friday is definitely not one to pass up. Black Friday has extraordinary deals in-stores and online. Buying Christmas presents on a budget is made easy on Black Friday. It is a great opportunity to buy early Christmas presents with a great deal. 
Get out of the house of a day.
One of the best feelings in the world is arriving home after a long and busy day and going to bed. This can easily be experienced during Thanksgiving break. Because we will have a whole day to do and go anywhere we want, including a vacation, it is a great idea to get out of the house for the day. For example, going to Los Angeles can be a fantastic day trip. Leave your house in the morning, spend a day in L.A., then go home late at night. Sounds like a fun plan to me.
Seriously, enjoy the break.