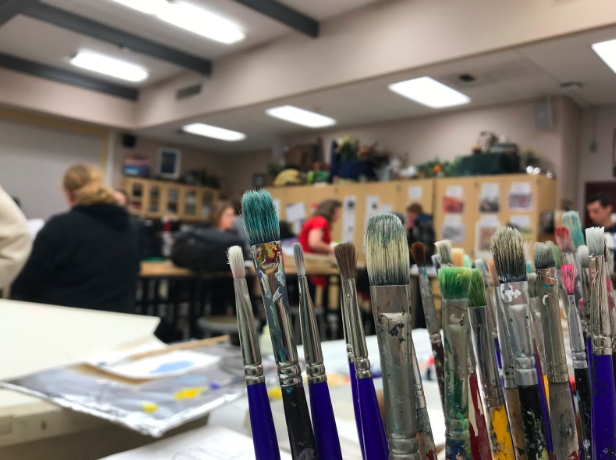 Karem Trindade
Painting Up Your Life with Art
As you enter the art room, you notice that it is a classroom like no other. Its tall wood tables and stools stand in the center; on the sides and the back of the room, there are all types of art pieces on the walls, and on top of the cupboards which are filled with art supplies.
When you look over, art teacher, Lynn Magnin, hovers around the classroom helping her students and making sure if they need any help with their art or giving them art tips. She spent two years at Tyler School of Art in Philadelphia, then transferred to UCLA for three years to major in design. She fell into teaching by accident, but ended up loving it more than design alone.
"There is nothing better than helping other people," said Magnin, "If you can teach a child something new and see their whole world open up, that is infinitely more interesting than design."
The most beneficial thing a student could take away from the class, she thinks, is when the student is pushing themselves a little bit further than they think they could go and being scared at the same time, but in the end they succeed. "[When] you take a chance in an art class, it's exhilarating and when you succeed it's very empowering," said Magnin.
Many students may see the art program as a fine art that can be done just to get over it. However, senior Gavin Braun, who has taken art all his four years of high school disagrees. "It touches people differently," said Braun, "many people come in with this idea in mind but because of the passion they put into it they want more."
He also mentioned how it could be worth it going on to higher levels of art in the class. "It can be very profitable [and it] can be used for almost everything." The thing he likes the most about Magnin is that she does not stop a student from trying something new. "If the student wants to explore something, she gives them the tools to do it," said Braun.
Freshman Ryker Canfield, who is in the beginning level of art, loves the class and chose to take it as his fine art requirement for the simple purpose of trying it out. His impressions of Magnin are that she is a really interesting teacher: "She is fun and creative," said Canfield.
He thinks her fun personality plays a big part as to how the spirit of the class is. "She is always happy and always has a positive attitude about everything, and that sets the class' vibe really [positively]." The reason as to why he remained in the class and would take it again is because it is fun and colorful, and he gets to play with art materials he has never tried out.
Being a student in Magnin's class could be really fun and entertaining, you learn a ton of art tips and many things you would have never imagined to be related to art. She takes her love for art really seriously, so she takes her love for teaching really seriously.
"There is nothing more satisfying to a teacher than reaching someone who really had no interest," said Magnin, "and if you can change one's opinion or one mind, that's a big deal because I really changed a life."