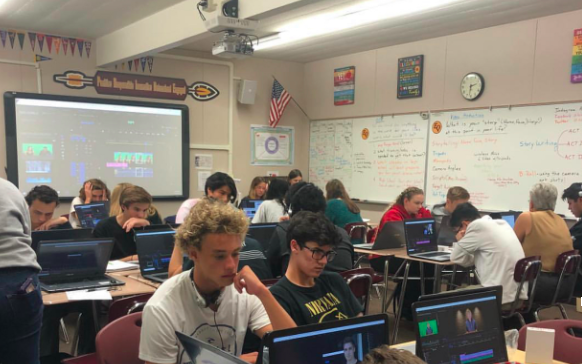 Kaden Winters
Students Transition From Classroom to Studio
Lights, camera, action. The video production room is packed with special equipment and technology that students have access to. Video production is an introduction class designed to provide students with artistic, creative and historical backgrounds in the fields of video, broadcasting and film production.
Many students in the class chose to try this fine art class because of the low homework load and the many different skills they learn about filming and editing. Students are introduced to new filming technology you won't see in any other class. Technology such as panasonic HD cameras, greenscreen, studio set and microphones are just some of the equipment video production handles.
"I would take recommend it to people who don't like basic classes with homework," said junior Kaden Winters. "I thought it would be fun to learn more about filming and editing," said junior Jake Duran.
Students learn basic filming and editing skills while being behind and in front of the camera. Skills learned from the students include: producing, directing, technical directing, production assistant, teleprompter operator, audio technicians, script writing, news anchoring, reporting, camera operation, stage management and broadcast engineering.
To be in this fine art class, there is no requirements. This class allows new students to explore different interests and enroll without any experience. Many times the hardest part of being apart of the class is going out of your comfort zone.
"No requirements needed, level two needs a teachers approval and both are used for fine art and elective," said video production teacher Sue Sawyer. "The hardest part is doing things you've never done before and wanting to do things instantly, stepping out of their comfort zone," said Sawyer.
Although there is no requirements needed in the class, you have to come to class everyday and want to work independently. Students have the freedom to walk into class and start working without given lectures and directions.
"Once you get the foundation down, you just get in and work," said Sawyer. "I like walking into class and starting to work with no instruction," said Winters.
Students in the class also have freedom on what story they want to do as long as they learn the base foundation. Most of the time you are given a deadline and work at your own pace during class, helping with time management skills.
"My teaching style is unique, non-traditional, I'm not a lecturer and not a fan of it. I try to make it short and talk 10% of the time and have the students work 90% of the time," said Sawyer. "I have learned better time management skills from being apart of this class," said Winters.
Even if you do not plan on being apart of this field in the future, basic skills are still learned throughout the year. This fine art class can help you in ways that you might not think you need help in.
"I think this class will still help me towards my future even if I don't pursue the career because of all the basic skills i've learned such as time management and creativity," said Winters.