Winterguard Team Starts New Season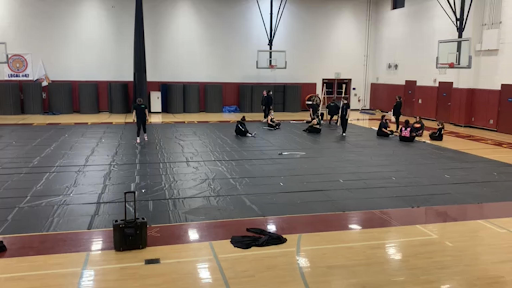 Our Winterguard team dives headfirst into the new season after taking home 4th overall in the SCSBOA 4A championships. Unlike the fall season, the guard performs in a gym to prerecorded music chosen by coaches. They will be performing in this year's show titled, "Through The Eyes of a Child" to Radiohead's Creep covered by the Scala and Kolacny brothers.  
"I am so excited for this show, the girls have shown such progress since the beginning of the year," said Coach John Arroyo, We are rolling into this next season on a great success that was very much earned." 
The weapon line consists of about half the team and they spin wooden rifles as well as steel sabers.  The remainder of the team will join in with 6-foot flags, all while completing complex dance combinations. 
"One of my favorite new tosses is a double turn around," said freshman Brooke Berry.  This combo consists of tossing a double in the air while spinning underneath and coming up with the catch in the end. 
The theme of this year's show focuses on childhood innocence and inclusion set on a playground-like scene.  Some of the cool props the team will be using this year include a 7-foot functioning swing, a teeter-totter, and a jungle gym.  The team is blessed to have such great parent volunteers to help build and transport such items. 
"I can't wait to actually try out the swing during practice," said sophomore Nikolette Hoyt. "It's going to be so cool."  
Competitions began last month, their first being at Huntington Beach High School on February 19th. The team competed in Scholastic AA, placing second place with a score of 65.430. Over the weekend their coaches were notified the team was moved up into Scholastic A. They will continue competing through the spring in such places as San Diego, Monrovia, and Arcadia. The team's season will end with the last show at UCI at the Winter Guard Association of Southern California's championship tournament.  Tryouts for next year's team will be held on campus in the month of May. Come check out the team if you are interested!