Scarlett Johansson's Lawsuit With Disney Finally Settled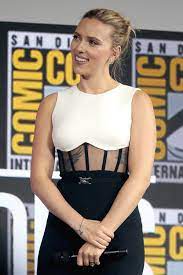 On July 29, 2021, Black Widow actress Scarlett Johansson filed a lawsuit against Walt Disney Co. stating that they had breached her contract by releasing the film both in theaters and on the streaming service Disney+. After a lengthy PR battle, the lawsuit has finally been settled. 
The legal battle stems from the fact that Marvel Studios' newest movie, Black Widow, was supposed to have "a release that is exclusive to movie theaters", as stated in the complaint filed by Johansson. However, Disney directly ignored this promise and had Marvel release the movie on Disney+ the same day as it's theatrical release. Because of this, many people who would usually go see the film in theaters instead opted to watch it in the comforts of their own home for an additional $30 on top of their Disney+ subscription. This caused the film to earn over $60 million on the streaming service during the film's opening weekend; $60 million that would have been earned in addition to the $379 million from the theatrical release if Disney had not breached their contract with Johansson.
When news of the lawsuit spread, it essentially became a PR battle between Disney/Marvel executives and Johansson and her law team. For about two months the two sides battled in the eyes of the public, which did not make the process any easier. An executive of Disney went as far as to say "the lawsuit is especially sad and distressing in its callous disregard for the horrific and prolonged global effects of the COVID-19 pandemic. Disney has fully complied with Ms. Johansson's contract and furthermore, the release of Black Widow on Disney+ with Premier Access has significantly enhanced her ability to earn additional compensation on top of the $20M she has received to date." However, the lawsuit being so public allowed plenty of other Hollywood stars to come to the defense of the Black Widow star, including Marvel costar Elizabeth Olsen, who stated"she's so tough". The battle seemed like it would never end, which is why it was a shock that on September 30, 2021, the public learned that the lawsuit had been settled. 
Specific details of the settlement were not disclosed, however Johansson stated that she is "happy to have resolved [her] differences with Disney", and she "look[s] forward to continuing [their] collaboration in the years to come". The collaboration she is referring to includes one of Disney's upcoming projects, Tower of Terror, which Johansson is now set to star in.