Overqualified: The truth behind over-educated workers
More stories from Elyzabeth Andersen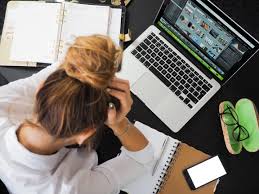 Workers with higher education qualifications applying for positions with low requirements has become a common sight in today's society. Upon entering the workforce, many college graduates face jobs that don't offer suitable wages for their skill level.
According to a recent study, one-fourth of college graduates who obtain a bachelor's degree are overqualified for their career. However, this number is lower than the results of the Federal Reserve Bank of New York reported in June 2013, which estimated that as many as 44% of graduates being overqualified, bachelor-degree holders, reported time.com.
With a higher level of education, the probability of high-paid positions increases. However, according to forbes.com, this causes lower-paid positions to become less reachable due to either graduates refusing to start a career in a job in which they are overqualified, or student loans causing the job to be financially difficult for college graduates.
On the other hand, student loan debt which is forcing some graduates into taking a job that is below their education level to be able to make payments. The result being around 20% of graduates that have taken on student loans, have needed to find work in industries unrelated to their area of profession to find better paying jobs to pay off debt, reported forbes.com.
In 1980, those in poor-fit jobs who were overqualified earned 35% less than those with good-fit jobs. But in 2000, this had risen to 41%, growing to a further 48% and 50% for female and male workers respectively in 2014.  While there has been a drop in college graduates being overqualified, the result for those unable to find work in their industries, is being forced to accept lower wages than those previously. On the contrary, for those with a college degree in good-fit jobs have seen an increase of earnings of an estimated $20,000, concluded time.com.
A study, done by Brian Clark; an Economist at the Federal Trade Commission., Clément Joubert; an economist in the Development Research Group, Human Development and Public Services Team, and Arnaud Maurel; assistant Professor in the Department of Economics at Duke University, found that people who were overeducated in at least one past job received 2.6% to 4.2% lower wages per year. Because a period of unemployment costs  7.6% in lost earnings and being overqualified affects your earnings for a longer period than unemployment does, being overqualified is almost as bad for you as being unemployed.
According to fool.com, people who have obtained some college level degree, the likelihood of being overqualified can remain high even after a decade in the workforce. For example, being overeducated for three years, the chance of transitioning into a job that matches your education level decreases from 39% to 20%. After five years, the probability drops to 15%, and after 10 years, it is just 10%. For this reason, the longer the time spent in a position someone is overqualified for, the probability of transitioning into a job that matches their education continues to decrease.
A report undertaken by Stephen Rose for the Urban Institute studied the over qualifications of college graduates. It was found that younger workers in graduate jobs had the highest overqualified rates in all years examined by the study.
The report concludes that there are mixed messages about the importance and effectiveness of higher education, highlighting the challenges college graduates can face when attempting to obtain a decent job, while also presenting arguments on both sides on the importance of a college degree in today's economy.