What If week: Speaker profile
Holocaust survivor, Jacob Eisenbach
More stories from Ally Dahncke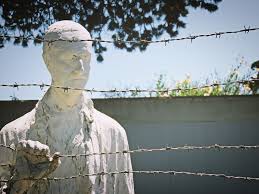 During the Holocaust six million European Jews were persecuted and murdered by the Nazis and their collaborators. One of the survivors will speak to the students of Esperanza High School on Friday.
Jacob Eisenbach, 94-year-old Holocaust survivor, shares his story with people all over the country.
Eisenbach had a wonderful childhood with his loving family in Łódź, Poland. His family loved to see people visiting, like his friends who lived close or his extended family. However, when the Nazis invaded Łódź, he experienced a drastic change.
The Nazis took away the Jews' freedom, which Eisenbach missed most. He was imprisoned for five years in three concentration camps in Łódź, Skarżysko, and Czestochowa starting at the age of 16. He also missed his large family of 100, which only 2 survived the war.
During his time in the concentration camps, Eisenbach never gave up his hope that justice would prevail. He never lost hope, learning from his family that "no matter how dark the clouds may be, there will always be a day when the sun will break through." Finally, hope arrived.
On Jan. 16, 1945, the Russian army liberated the concentration camp and Eisenbach walked out free. He went back to his hometown of Łódź with his brother. However, due to the Polish government, Eisenbach had to escape to the Czech Republic. He then made his way to Germany and enrolled at University of Frankfurt. Once he graduated, he moved to the United States which was the "best move [he had] ever made in [his] life."
"It is the best country. There never was such a good country as the United States," Eisenbach stated.
His mother died one year before the war; his father was deported with 600 others and was never seen again; his brother who was five years younger was infected with typhus and sent to the gas chambers; his sister escaped, but was caught and killed; his brother who was two years younger survived the Holocaust and joined the Polish army, but was found out as a Jew and killed. After all that, Eisenbach feels compelled to tell his story and teach people to prevent genocides.
Eisenbach speaks to high schools because he wants them to "guard their precious minds against accepting ideas of hatred, discrimination, and intolerance because it was those ideas that resurrected to the murder of six million jews."
Eisenbach stated, "If you want peace, you have to eliminate hatred and counteract hatred the best way you can."
Eisenbach is speaking to 27 classes during third period on Friday, Dec. 15 as the culmination of "What If" week.