An Overview of The 2021-2022 Esperanza Entertainment Unit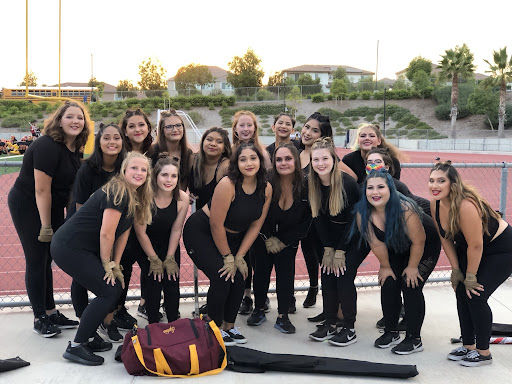 The Esperanza Entertainment Unit, consisting of Band and Colorguard, starts their performing season in early October.
The EEU has been practicing and putting together their field show since the summer boot camp. Mr. Davis, the band director, says that the EEU's field show titled "Broken Windows and Empty Hallways" will be one of their "prettier shows". The Entertainment Unit performed during halftime at both of the home varsity football games.
It takes several hours of practice, as a group or individually, to put together the show. This year's show is led by Captains Laurana Tetzlaff and Jordan Ruvalcaba and will feature equipment and dance work. The equipment that is going to be used in this year's show included sabers, rifles and flags. Flags are 6 feet metal poles with silk taped to it. Silks are interchangeable and are usually specially ordered for every new show. Wooden recreations of guns, called rifles, are about 37 inches in length with a metal bolt and leather strap. Our school owns seven sabers that are also about 37 inches in length, made fully out of metal with a handle designed to look like a sword. 
The unit helps create the visual effects of the show that can be seen by the judges up in the press boxes.  Laurana starts the show with a dance solo and to end the opener, Bella Molina has a flag solo. So far the EEU has learned the opener and ballad of their show through rigorous practice every morning during zero period, as well as meeting twice a week after school.  The band has after-school sectionals from 3:15 to 4:15 on Tuesdays where they met by the instrument section and go over all of the music. On October 9th the EEU performs in the Placentia Heritage parade. On October 16th, at Valencia High School the unit has their very first field show competition.