Aztec Theatre Company Begins Work on New Production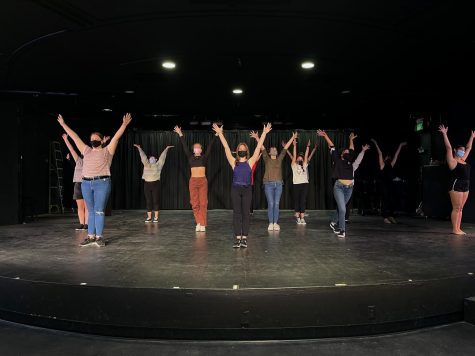 Esperanza High School's Aztec Theatre Company has begun work on their new production. Slated to open in early March of 2022, it is the first production since the arrival of the school's new choir and theatre Director, Mark Myers. "It's Interesting getting a new teacher. He brings a new perspective for the making of this show, and teaches us new skills with our acting and singing" said Aly August, a performer in Aztec Theatre Company. 
Ireland Mercado, the theatre company's Secretary for the school year, provided some insight into the process of building a show from the ground up."First, we have to decide what kind of show we want to do exactly. Then, with this specific show, we pick music and assign parts through auditions. In past shows, all of the students would select whatever piece they wanted to perform, but this year was a little different. We have a more cemented theme for our show this year. For the audition, everyone had to pick a one minute cut of a song of their choice, and perform a dance" said Mercado. With auditions complete, and programming nearly done, Aztec Theatre Company can begin moving forward in bringing this show to life. This will consist of set and lighting design, costuming, makeup, crafting props, vocal sessions with the director, etc. 
But there are some recent developments regarding the space the show will be taking place in. After an unfortunate situation with the school's prior finance clerk which resulted in the embezzlement of over $700k, the school received $1.5 million back. This money was first put towards an overhaul of the gym, but the next big project will be the theater. "So the theater has the following items scheduled to receive updates: New curtains and cyclorama, new sound/lighting booth, and a revamp of lighting and sound" said Meghan Lukach, the school's Activities Director.
Regarding the story of the show, August states "It's going to be scenes and songs from beloved musicals all in chronological order to make it seem like we are traveling through time". This correlates with the recent teases to the show on the Theatre Company's Instagram page, with the name "TIMELESS" (a possible name for the production) being tossed around frequently. 
One of the most notable features of the theatre company this year is its growth in participants, with 20+ members now helping bring this show to life, a good majority of those being actors. But it is worth noting that with many productions, there are more people working behind the scenes than there are on stage. From fundraising and box office managing, to social media coordinating, theatre companies need as much help as they can get. 
While Aztec Theatre Company is hard at work, the show itself does not debut until March 4th, 2022. It may seem like a long time, but with all the work that is to be done, time can fly by quickly. But despite this, it seems Aztec Theatre Company is moving along quite nicely, and will be updating their audience on their progress routinely online. This is a big step forward for this small company, and many look forward to what will happen next.