Aztec Spotlight: Nicole Reeves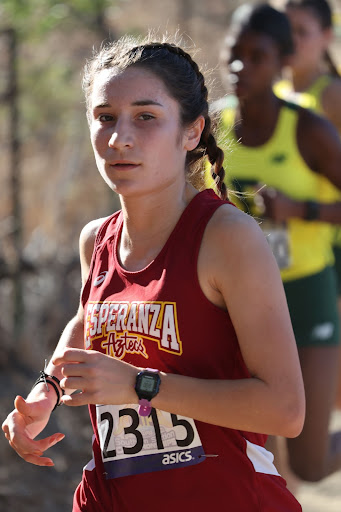 With the cross country season coming to an end in late November, it's imperative to recognize senior Nicole Reeves, who has had an excellent season, and is only set to do even greater things in the 2022 track & field season, and beyond.
Nicole has shown herself to be a dedicated athlete and an asset to her team throughout her high school career, regularly training and competing in cross country for the past four years. "Nicole is the leader and captain on our cross country team and has always come through when we have needed her most. She has made the California State finals twice in cross country and will continue her running career in college," says Coach Medellin, who is the head coach of both the cross country and track & field programs. Medellin's words adhere to the fact that Nicole is a reliable team captain, leading the talented group of athletes a part of our Aztec cross country team and showing that she is capable of pulling through for her teammates.
Nicole recognizes and acknowledges that she is proud of her cross country accomplishments. "I have had a great experience running Cross Country the past four years. The team improved each year and we qualified for CIF Finals every year except in 2020 when they weren't held," she acclaims. Adding on to talk about the rest of her team and its atmosphere, she says how "[they] all have grown super close to each other and some of [her] closest friends are from the team." Nicole's reflection, as well as Medellin's confirmation, demonstrates the team's structure; a group of talented athletes with a drive for success. A season cannot be complete without setbacks, albeit this fact isn't enough to deter Nicole from her goals. "There were some rough patches throughout, and the pandemic definitely set me back, but I'm glad I finished out strong by qualifying for the California State Finals," she declares, illustrating her determination.
So, now that her final cross country season has come to a conclusion, what's next for this young athlete? She intends to continue her running career in the future, with the goal of running in college. "I am looking forward to continuing to run in college and recently visited Minot State University in North Dakota," she affirms. "I am excited about track season and hope I can get some new PRs," she says, indicating that her ambitions are still alive and well.
We congratulate Nicole and the rest of the cross country team, and we wish them luck in the track and field season.