Women's Fall Recap/Winter Outlook

This Fall our Aztec women have been working very hard to be competitive in their sports. Women's Golf is 1 and 2 in league (6-6 overall). Esperanza lost to Yorba Linda High School but ended up winning against El Dorado. Tori Amarillas, Charlie Bigani, Hayley Burke, and Nalani Sam are the four seniors on varsity this year. According to Coach Claborn, "They have helped to make it a season to remember." Esperanza can't wait to see how these Aztec athletes do in the future.
The girl's varsity team is in third place and is hoping to make a charge to make the CIF prelims while being led by Ella Boyer and Diya Lane. Coach Medelin always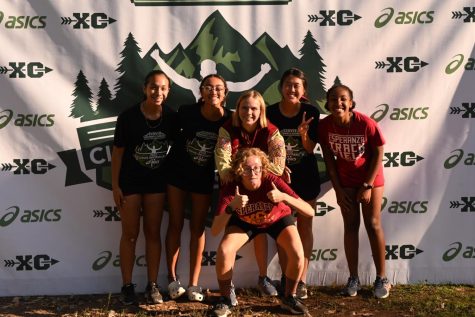 says, "Luck has nothing to do with your success on the course, it's the hard work and dedication that determines your success."
The girl's volleyball team is very dedicated to their sport. Through all practices, they do their best to become stronger as a team and it has definitely shown at our volleyball games. Our girl's volleyball team is 1-3 in league (7-14 overall). Senior Abigail Gavrilovic, has said, "I play volleyball because it is a type of adrenaline that only volleyball can give me. I am so passionate about this sport, and I truly love every aspect of it." Sophia Masciale, class of 2025, added that "I've made a lot of friendships and it was a good experience to grow as a player and learned how to work as a team."
Esperanza's varsity cheer team has seen Esperanza's ups and downs, but they have always been there to support the school. There are currently 15 girls on the varsity team with 4 seniors. Seniors are Gabby Andrisano, Carlee Matthew, Morgan Mccray, and Emily Grigoruk. One of the team's flyers, Hailey Espinoza, class of 2024, explained that "Cheer not only brought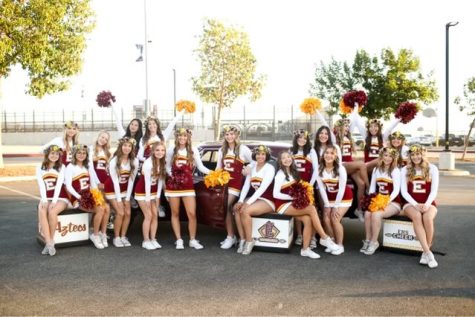 me happiness but it gave me a second family to go to and cheer may not be much to others but to us girls on the team it's special." This year, the Aztecs will finish the football season and then head into competition season. If you see these sports teams around school, give them a thank you!