Percussion Ensemble as a Beacon of Light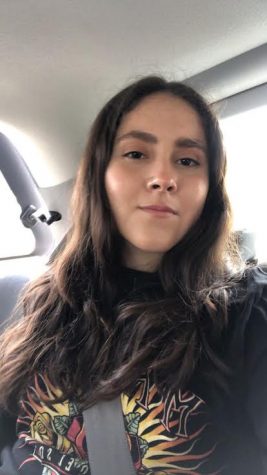 More stories from Jocelyn Castañeda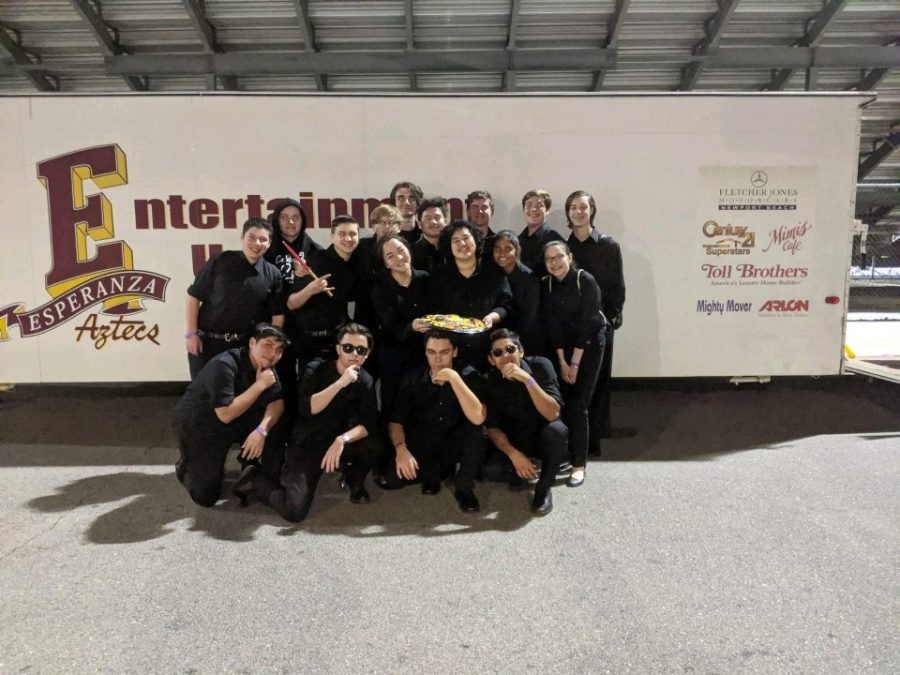 Everyone starts their school year thinking about all of the commitments they have planned for the rest of the year. This includes CIF, championships, performances and more. We all know about the spring sports teams that lost their season, but how about the musicians that lost theirs? Percussionists were just getting the ball rolling with their percussion ensemble group that had been doing great and had a first place record.
Marimba player and junior Anthony Trapolino explained, "Percussion ensemble is a group generally without the horns. We use a whole bunch of different drums or mallet instruments and play music just like the marching band except with a lot less people." The group is made up of drumline and front ensemble players from field show season. Their season starts after winter break and lasts until spring break.
Each season, they perform a new piece to wow the judges at the competitions they attend. This year, the percussion ensemble chose to play a 2018 piece by Chad Heiny, a percussionist, composer and educator, called Beacons of Light. "Chad Heiny's Beacons of Light was composed for the memory of Ryan McCutcheon, a percussionist who tragically passed away at the age of 19. In this piece for a large percussion ensemble, Chad uses a variety of bright, metallic instruments like crotales, sizzle cymbals, and multiple clusters of chimes to represent actual beacons of light," according to an online percussion publisher called Tapspace.
Xylorimba player and junior Zach Glenday said, "The song was written because Hampton High School's percussion coach, Ryan McCutcheon, passed away at a young age and the artist, Chad Heiny, wanted to give the town something to remember him by."
Talking about performing a piece with a lot of sentimental value, marimba player and senior Malia Guillen mentioned, "The best thing so far is performing the music with this group of people. The music in itself is really a great piece that has a lot of sentimental meaning. So performing that and making sure that we can play this piece of music and resemble all its beautiful parts is a necessity."
"This year's piece is a lot different than usual. Since the story behind this one is much more personal I've noticed there's been a lot more effort from the group as a whole. I personally like the way you can feel the passion in the piece from the writer. It's not really happy or sad, but it has hints of both. It's really peaceful for me," Trapolino recalled.
According to Tapspace, "The composer uses a variety of influences from Ryan's life for inspiration and musical content. This includes the use of a "deconstructed" set of marching tenor drums (Ryan's instrument of choice) orchestrated with bongos and concert toms, material from his favorite rap artist and '70s rock group, as well as a four-note leitmotif taken from his favorite song, which is used throughout the piece."
"Altogether we had been practicing our music and perfecting it. Each rehearsal is to make sure that our show gets better and better in order for us to be the best we can be at our competitions. Personally, and I think I can attest to everyone, I had been running through the music in my head the night before a competition," Guillen said.
Competitions are a huge part of the percussion ensemble season. Each competition is valuable as a score will determine whether or not a group is good. "Generally the performances aren't that nerve-wracking because by then we've either done enough work or we haven't, so we generally know how we'll do," according to Trapolino.
Just as football has its divisions, so does percussion ensembles. It's all based on the size of the group. Our group is considered to be among the smaller groups, which means they are competing against other schools with relatively same sized percussion. The competitions go in order of the divisions and the bigger schools are left for the end. Once a school finishes their performance, they're usually left with time to watch others.
Trapolino said, "My favorite thing about the performances is watching the other performers. It's really interesting to see what other schools do with their music."
The percussion ensemble only got to perform at three of their five competitions this season. They had gotten first place and had improved at every competition. The group started the season strong with a score of 72 out of 100 (getting 100 is nearly impossible) at Colony High School. At their second competition at Monrovia High School, they got 79 (which is a big improvement in a band competition). They got their best score, 83, at their last competition at Temescal Canyon High School. If it wasn't for the COVID-19 pandemic, they would have performed their prelims and finals competition at CSU San Bernardino. For the four seniors in the group who had worked hard their whole high school career and had been looking forward to their last performances, this pandemic effect is a huge deal.
"The best moment I had was finding out the results of our performances. Since I am a student leader I have the opportunity to be a part of awards. It's been a great experience to actually be a part of it and to receive our first place awards. I can truly say that I am proud of our progress and the amount of work we did because that is what has given us these amazing results," according to Guillen.
Their performance at the prelim competition would have decided whether or not they would be going to finals, but at the rate they were going, it was almost a guarantee. "I'd say we have a good shot at making it to the finals show, and if we do I think we have a chance at placing pretty high," Trapolino mentioned before quarantine had ended his 2020 percusion ensemble season.
But, piecing together a multi-minute song with tens of different types of instruments and notes to play can be hard. Guillen recalled, "There definitely had been many obstacles throughout the season. As a whole group, we definitely are a pretty talkative crowd, so it does tend to get noisy and distracting whenever we are rehearsing. Throughout this season, however, the student leaders of the group have definitely stepped up to the plate and made sure to tame the group and remind everyone the etiquette of rehearsing."
Hours of long rehearsals multiple times a week is challenging and requires dedication. Trapolino acknowledges just how hard it is to find a group of dedicated performers, "I really want to emphasize just how hard the group has worked. Lots of people have really stepped up and given it their all and I haven't been this proud of a group for a very long time."
Although the group of dedicated performers never got their chance to finish up their 2020 percussion ensemble season, they still represented their best potential. Guillen ended by sharing their goal as a group, "Hopefully we can show everyone that we are a really great group and hope we can represent Esperanza in a great way."