Up & Coming Girl Bands That Should Be On Your Playlist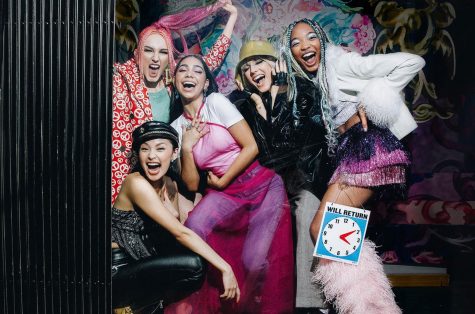 Girl groups, or primarily female vocal groups, have been around for ages! They rose to popularity in the mid-1960s, the period between early rock and roll and the British Invasion. The girl group era produced a clearly identifiable hybrid of many different genres. In the photo below are Queenie Mae Villaluz, Olivia Ruby, Elana Caceres, Lillian Kay, and Makhyli Simpson, members of Tiktok's most popular girl band Boys World. Originating in Los Angeles, the band was formed because of an Instagram DM back in 2019. Kay, 18 at the time, said back to KYN entertainment´s direct message, "You want to put together this girl group and you want me in it?". With 2 million followers and over 58 million likes on Tiktok in just 2 years, they rose (and are continuing to rise) to fame rapidly. Recently, Queenie said to People magazine "People compare us to girl groups like the Spice Girls, I feel like they're manifesting success for us", and success they hold. Asking around campus, 7/10 people have heard of this girl group and have only positives to say about their musicality. This band holds major raw talent and has amazing chemistry. This is expected since they have been living in a house together for almost 2 years. With their debut EP, 'While You Were Out', they began their careers as a U.S. girl group for a new generation. Fast-forwarding to now, Boys World has 8 songs, their newest being a single called 'Something in the Water' released August 10th, 2021.  Check them out!
Based in Los Angeles, the band Lavalove was founded in 2019 by singer and rhythm guitarist, Tealarose Coy. Other members Jenny Quay (guitarist), Michaela Rabina (drummer), and Stephanie de Santos (guitarist), as well as Coy, bonded over the belief that "one good song could be a cure-all". A once-bedroom project became something bigger. Tealarose was "set on introducing a positively influenced band", and with that collaborated with three other talented young women to create Lavalove. Each band member has over 11 years of experience with music whether it be Santos on the bass or Quay on the guitar! Although Lavalove already has 6 songs released, they are continuing to work hard on releasing new material they claim via Instagram Stories. Their main goals are to  "empower other female artists and show them that no matter how intimidating it seems, expressing your creative interests makes it all worthwhile" and tour so they can interact with their listeners more! Since blowing up on TikTok and other platforms, Coy claims "seeing people enjoy our music makes me the happiest I´ll ever be". Make sure to add them to your playlist if you want something exciting and fun to listen to!
Six:42 is an all-female band consisting of members Sabina Chavez Moreno (drums), Kaitlyn Price (lead guitarist), Anna Zumbuhl (bassist),  Lacey Davis (vocalist), and Groovy DeLaRiva (drummer). With one glance at their media, you can clearly identify the unique brand they have made for themselves. What makes a girl band so great is the apparent compilation of such different personalities and styles which is definitely reflected in their music and presence.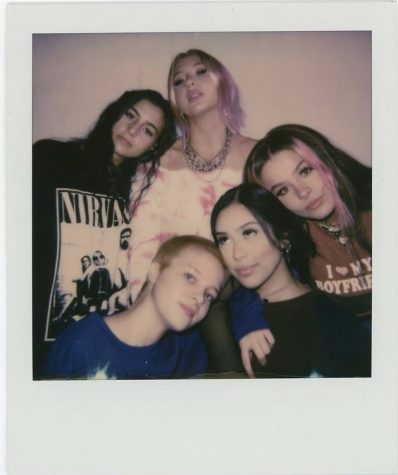 Their recent single "Mad Addictions" features Davis´ vocals that can be described as grungy, which gives an extra edge and bite to the lyrics that are somewhat bitter and angry. This change in delivery from their softer first single "Pluto" shows how much they have developed as a band as well as solidifies their versatility. They have a great fanbase who many seem to have followed them since their first viral video. Their media outreach and teasers for their music are extremely enticing and make you excited for upcoming projects. With these two songs and more upcoming, you won't want to miss their upcoming! Tell your friends all about them!