Women's Basketball Grows On and Off the Court
Hang on for a minute...we're trying to find some more stories you might like.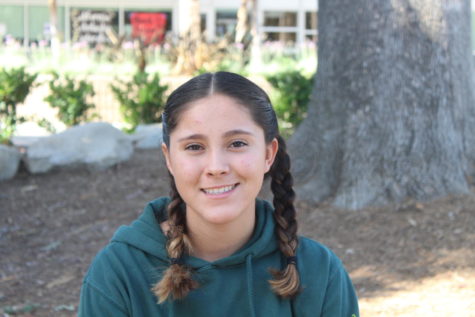 More stories from Jocelyn Castaneda
This year's women's basketball season was very successful, breaking many women's basketball records. The team is now placed 55th in the state, ended with an overall of 22-8 and made it to the second round of CIF playoffs. Most importantly, they became co-league champions with Brea Olinda in the Crestview League for the first time.
"I set three goals every year and we made all of them. We beat Brea, won at least 20 league wins and we ended up fifth in CIF. With that, they showed that when you play Esperanza you're playing one of the best teams around," said coach Jimmy Valverde.
In the last six years, the team has gone from being in 3AA to being in the highest division in CIF, 1A. The team's first CIF game was against Vista Murrieta, with a winning score of 58-36 on Feb. 7. Unfortunately, they lost their second CIF game against Harvard-Westlake with a close score of 47-42 on Feb. 9, which was a back and forth battle throughout the whole game.
Senior Jamie Kwong said, "Looking at our teams these last four years really made me recognize how much we've improved. We've really come far in being able to harness that quick and aggressive style of play."
The Lady Aztecs almost went undefeated with an overall of 5-1 in the Crestview league. A memorable win for many of the players was the win against the Mustangs with a score of 57-36 on Jan. 18.
Valverde said, "This year, with the toughest schedule, the team had to take it one game at a time. But when you play teams like Mater Dei ranked first in [Orange County], fifth in state and Centennial-Corona ranked seventh in CIF, it takes a special effort mentally and physically."
"Beating Brea was an accomplishment for the team. Some of the players had been waiting four years to do that so it was very emotional for all of us," said senior Brienna Johnson.
If you're familiar with women's basketball at our school, you probably know that Brea Olinda is their rival school when it comes to competing in the league. They also won a very important and intense league game against Brea Olinda with a score of 54-53 on Jan. 11. Just to mark the significance of this win, Brea Olinda is not only marked 39 best in the state, but Brea Olinda's only loss in a league game was against Esperanza. This means that our Lady Aztecs earned co-league champions, and it marks the first time since 2005 that the women's basketball team has beaten Brea Olinda in a league game.
"We say win with class and if we lose, we keep our heads up high and have school pride. When we come home from away games, we have a tradition when the bus gets on Kellogg Street to all sing Esperanza's Alma Mater," added Valverde.
Many of the players were able to achieve a lot individually. For example, senior Samantha Fries (center, power forward and forward) is the second scoring stat leader in her league with a total of 451 points and 16.1 points per game. Junior Katie Kubo (point guard and shooting guard) is fourth in league with a total of 248 and 8.3 per game. Senior Sarah Youssof (forward, small forward and power forward) is in fifth place with a total of 221 points and 7.4 per game.
Fries also broke Esperanza's all-time scoring and rebounding record, which is incredibly difficult to accomplish. She will play basketball at the University of California Riverside. Megan Nieto will be going to California State University of Fullerton and Johnson will be playing at Walla Walla University in Washington.
"We have several good players Kwong, Kubo, Youssouf, and Fries all made 'All-League' and Megan Nieto and Emily Briggs received 'Honorable Mention.' It was never just one player, we also had Ashlyn Warye & Miani Sumida that played big minutes off the bench as great defenders," said Valverde.
"There wasn't really just one secret weapon this year. We only won games because we had our speedy point guard Katie Kubo, knock down 3-point shooter Jamie Kwong, insanely versatile Sarah Youssouf, offensive beast Sam Fries, incredibly strong Megan Nieto, defensive specialist Ashlynn Warye, crazy fast Miani Sumida, clutch shooter Sophia Assad, post-move legend Heather Matthews, extremely intelligent Alyssa Kubo, constant hard-worker Bri Johnson, persistent encouragers Rachel Williams and Caitlin Dempsey, and the sixth-man, myself. It took every single one of us to win the game and come out on top," said Briggs.
Kwong shared an important aspect of the program's values by saying, "Our coach always told us that when times get rough we don't just play for ourselves, but more importantly, for each other. This was our greatest motivation as it really did shine through in the small, but important hustle."
"My experience as being one of many seniors was really enjoyable because I was able to experience this year with all of them," said Fries.
The program also strongly enforces athletes to also be great scholars. Twenty-four out of twenty-nine of the players have over a 3.5 GPA. "We want all our girls to succeed and be ready for college, so education is a top priority over basketball," added Valverde.
"We're losing several key players that were seniors, nine total. The last six years I've been here has been a great ride and we don't want that ride to stop, so having only one starter back, one of the best guards in [Orange County], Kubo, she will lead the team with her awesome play hard-working attitude. Briggs, who is an another solid, good player and hard worker is a great kid and will also be returning. We have such great young ladies in our program. They just are the best kids a coach can have to work with," mentioned Valverde.
Briggs added, "Being the second youngest on a varsity team is sometimes challenging, but also very rewarding. It was a little difficult in the beginning of my freshman year trying to fit in with all the girls. But then I got the name 'Freshie' and we all started joking around, and I instantly felt like one of them. The past two years have been extremely rewarding because I'm constantly learning from the older girls. They've taught me how to improve upon my skills, how to be a good teammate and how to present myself on the court. I cannot thank them enough for being such wonderful teammates and friends."
Evidently, the main source of the team's success and hard work is from the unity and bonds between all of the players. Valverde said, "We matured as a team with our way of thinking, with the idea of a great team wins together and loses together."